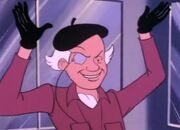 Reality Alteration was a super power that allowed characters to warp the very fabric of reality itself. Some characters could go as far as creating their own realities, such as parallel universes and alternate timelines.
This ability was mostly limited to people with virtually unlimited power, however that was not always the case, as some characters with psychokinesis were even capable of manipulating at least their own reality with their mind.
References
External Link
Community content is available under
CC-BY-SA
unless otherwise noted.