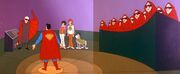 Raven v. Superman was a mockery of a trial in which the Raven tried to get revenge on Superman by convicting him of being guilty.
The Apprehension of The Raven
Verdict
Guilty
Sentence
Aftermath
Despite the fact that Superman was sentenced to life in prison, Superman is able to escape the Raven's clutches, thanks to a plan he had set into motion earlier. He then apprehends the Raven himself, and rescues the kids and Wonder Dog, and returns everything Raven had stolen.
References
Community content is available under
CC-BY-SA
unless otherwise noted.