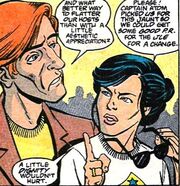 Public relations was a means for an organization or business to communicate their plans to the general public.
Within the Justice League, it was often felt that the Justice League Europe wasn't very good at "good PR."
In 1990, the Justice League Europe members Kara, Ralph and Sue Dibny and Wally West were at the Cannes Film Festival for "good PR."[2]
Appearance
References
External Link
Community content is available under
CC-BY-SA
unless otherwise noted.