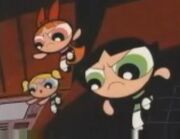 The Powerpuff Girls is a team of superheroes made up of three grade-school aged girls. They are based in the city of Townsville but they have been present at the Hall of Doom to save Aquaman and Wonder Woman from being murdered by the Legion of Doom. The girls are big fans of the Super Friends, which they consider "Old school."
Members
Appearance
Notes
The Powerpuff Girls were created for the Hanna-Barbera animated series of the same name. They were later brought to DC Comics.[2]
The Powerpuff Girls made their first comic book appearance in Powerpuff Girls# 1 (May 2000).[3]
References
↑ As seen in Super Friends and the Powerpuff Girls.
↑ Although they did appear in several DC Comics, they were never seen within the DC Universe or its' extended multiverse.
↑ For more information about this DC comic book, click here.
See also
Powerpuff Girls commercial with Batman and Robin
External Links
Community content is available under
CC-BY-SA
unless otherwise noted.