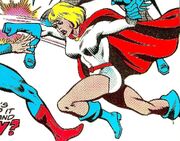 Kara Zor-L, aka Power Girl, is the Kryptonian, Earth-2A counterpart of the Earth-1A Supergirl. Kara Zor-L is also the first cousin to Kal-L, the Superman of Earth-2A; and a member of the Justice Society of America.[1]
Background Information
On the parallel-universe of Earth-Two, After discovering Krypton was about to explode, Kara's father Zor-L launched her as an infant to Earth in a ship at the same time that Kal-L's ship was launched. However, Kara's ship took a much longer journey, resulting in her arriving on Earth decades after her cousin. According to Kara, the trip took 60 years to finish.[2]
Unlike Kal-L's ship which was designed for fast travel, Kara's "Symbioship" was designed to hold Kara in stasis during her development through the prolonged voyage. In addition, the ship's artificial intelligence had the life experiences and education of a Kryptonian in the form of a virtual reality program wherein she could interact with life-like copies of her parents and fellow Kryptonians.
When she landed on Earth, Kara was the age of an adult woman in her early twenties.
Powers and Abilities
Powers
Kryptonian Physiology: Power Girl's cellular structure is more dense, resilient and biologically more effective than Earth human tissue. She does possess several additional organs, the function of which are not yet disclosed or understood. Her powers were attributed to her Kryptonian physiology, and not the radiation of a yellow sun, as all Kryptonians native to this reality did have superpowers in their original red sun system. Hence, Power Girl's powers did not fluctuate under the presence or lack of yellow sun light. This was the primary rationale used for his lower superpower levels to his other dimensional counterparts and his aging.
Solar Energy Absorption: Her powers originally were based on her own internally generated energies, as Kryptonians native to the original Earth-Two dimension possessed superpowers on their red sun planet. Over the years this basis has changed.
Superhuman Strength: Her strength did not compare to her Earth-One counterpart or other other-dimensional Kryptonians.
Healing: Kara heals faster than a human being.
Super Immunity: Kara's immune system protects her from most toxins and diseases.
Various Vision specific Powers

:
Electro-magnetic Spectrum Vision
Abilities
Master Combatant
Genius-Level Intellect
Weaknesses
Justice Society Team Members
Appearances
Notes
Power Girl was created by Gerry Conway, Ric Estrada and Wally Wood.
Her first appearance was in All Star Comics, vol. 1 #58 (January/February 1976).[3]
Power Girl is the Earth-Two counterpart of Supergirl.
Gallery
External Links
References