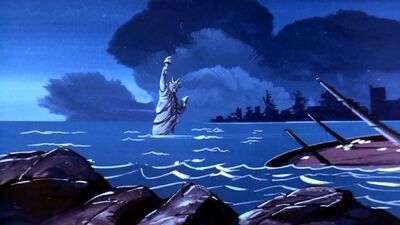 The post-apocalyptic future was a future time, after a solar flare destroys Earth.
History
Lex Luthor creates a missile that he fires at the sun, which creates a solar flare that engulfs the Earth. Although the Justice League of America stop the flare from striking earth with their global force field, the force field reacts to the flare in a very negative way, absorbing the radiation and transforming the atmosphere into toxic air, thereby turning Earth into a radioactive wasteland.
Sometime later, an alien race comes to Earth in a spaceship and finds that the Earth had been destroyed and all life on the planet had been wiped out. When they learn what had happened in the past, they use their powers to time travel to the time before the disaster had taken place, and they saved the earth.
Appearance
References