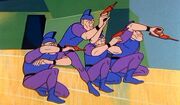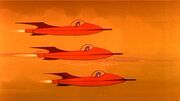 The Plutonians were an alien humanoid race from the planet Pluto.
History
Very little is known about the history of the Plutonian race. One Plutonian raider named Koba Rah attacked Earth with a ray gun from his fortress laboratory. Hawkman followed the laser[1] to Pluto and found that it was Koba Rah that had been attacking Earth. Hawkman then stopped him and his henchmen.[2]
Physiology
Plutonian physiology was different enough from humans that they were able to live in the harsh atmosphere of Pluto, without having to wear a spacesuit.
Their ears were even pointed, much like Exxorians.
Technology
Plutonian technology appears to have been more sophisticated than 20th century human technology. They possessed ray gun technology and advance aircraft or spacecraft.
Known Plutonians
Appearance
The Superman/Aquaman Hour of Adventure (1967-1968):
References
↑

Or whatever type of ray it was.

↑ As seen in The Superman/Aquaman Hour of Adventure episode Peril from Pluto (1967).
External Links
Community content is available under
CC-BY-SA
unless otherwise noted.