Super Amigos

This page has material from the Super Amigos franchise. This includes any Superfriends or Super Powers material in the Spanish or Portuguese language. Although some material may be canon, others may be subject to dispute.
(This template will categorize articles that include it into the "Super Amigos" category.)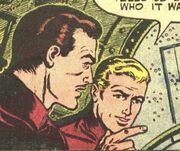 The Planeteers was an interplanetary police agency during the late twenty-first and early twenty-second centuries.
Colonel Tommy Tomorrow and Captain Brent Wood were both Space Patrol Officers for this agency. Their patrol ship was the Space Ace.[2]
One adventure that the Planeteers embarked on was to the Tigermen Homeworld, home to a race of Humanoid felines.
There, they rescued the Space Circus from these aliens, who had thought they were merely dumb animals.[3]
Notes
The Planeteers first appeared in Real Fact Comics # 16 (October 1948).[4]
Appearances
References
External Link
Community content is available under
CC-BY-SA
unless otherwise noted.