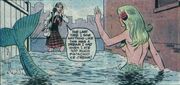 Pistachio ice cream was a type of ice cream that was made with pistachio nuts.
Marylou Gregg, a teenager from Gotham Central High, saw what she thought was a mermaid swimming in water in an alley. What she didn't realize was that it was actually the Wonder Twins playing a trick on her.
As Marylou saw this strange sight, she was reminded of a crazy dream she had after she ate too much pistachio ice cream.[2]
When the Joker had Superman trapped in his Psychoactive Dimension, he offered him what he said was a Kryptonite birthday cake with anchovies, but he later admitted it was actually pistachio ice cream. Clearly it was Green Kryptonite at first, but he changed it with his Reality Alteration abilities he had in that dimension.[3]
References
External Link
Community content is available under
CC-BY-SA
unless otherwise noted.