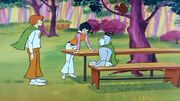 A picnic was an outdoor meal. It could be lunch or any other type of meal. Certain types of tables, called picnic tables were especially designed for such outdoor meals.
Marvin, Wendy and Wonder Dog once had a picnic at the Seaside Amusement Park, and the Wonder Dog ate a hot dog with mustard and onions.[2]
The trio later have a picnic on Mystery Mountain, where they eat sandwiches and Wonder Dog eats dog food.[3]
Marvin, Wendy and Wonder Dog later take a picnic basket to the Gotham City Museum, after a bike ride on Marvin's motor-scooter.[4]
References
External Links
Community content is available under
CC-BY-SA
unless otherwise noted.