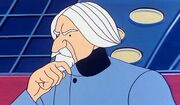 Philosophy is the study of general and fundamental problems, such as those connected with reality, existence, knowledge, values, reason, mind, and language. Philosophy is distinguished from other ways of addressing such problems by its critical, generally systematic approach and its reliance on rational argument. In more casual speech, by extension, "philosophy" can refer to "the most basic beliefs, concepts, and attitudes of an individual or group."
Noah Tall believed the philosophy that "Knowledge is power," although he desired such power to dominate mankind.[2]
References
External Links
Community content is available under
CC-BY-SA
unless otherwise noted.