The Phantom Stranger is known for his role as a 'supernatural assistant' to other heroes, such as the Justice League. After a vote of the majority of the team, they offered him membership, with Superman declaring the Stranger 'a member' without qualification. He left before accepting.[2] He did not acknowledge his membership until a few years later.[3]
"
Out of the swirling mists of nowhere looms a mysterious figure to shield the innocent from the dark forces of evil ... and then disappear again into the void! Who is this Phantom Stranger?
"

— From the cover of Phantom Stranger, #1 (August, 1952).
Background Information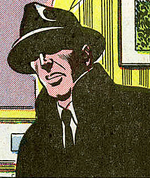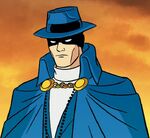 In the parallel-universe of Earth-One, the Phantom Stranger's origin is unknown. His early career was spent proving the supernatural events perpetrated by criminals to be hoaxes. He would directly confront the villains, and displayed no supernatural abilities apart from his uncanny ability to appear where and when he is needed and to disappear just as mysteriously, with nobody ever seeing him coming or going.[4] He eventually began to confront 'real' supernatural-events, to which he began to exhibit unspecified superhuman powers to defeat them.[5]
As his career progressed, he began to aid major heroes, many being Justice League members. He did this in a physical corporeal form and at other times as mysterious disembodied voice. He assisted the Justice League team as well on numerous adventures. On one occasion the team formally elected him to membership,[6] although his acceptance of membership was another matter.
He also, developed personal enemies. One such enemies was the demonic sorceress Tala.[7] Another was the alchemist/sorcerer named Tannarak.[8] This relationship would prove to be unique as Tannarak would later assist him against the Dark Circle.[9] He would also be assisted by a blind psychic named Cassandra Craft.[10] This team-up, would be peppered with a romantic attraction. The Stranger eventually initiated the two parting ways,[11] although she would show up on occasion to lend a hand.
Powers and Abilities
Powers
The limits of his power have not been defined. In many cases, despite his obvious capabilities, he claims he is not allowed to end a crisis directly, only to guide others to take the necessary actions.
Abilities
The Stranger Inducted into the JLA
Appearances
The Stranger did not appear in any episodes of the Superfriends.
Notes
External Links
References
Community content is available under
CC-BY-SA
unless otherwise noted.