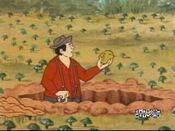 Paw Martingale is a farmer. He is the father of Mace and Vinnie Martingale.
Shortly after the destruction of Krypton in the early 1940s, he saw one of Krypton's fragments fall to earth on his farm.
By the '70s this "sky stone" was held sacred by the Martingale family, since a large mushroom crop sprung up afterward, and Paw felt it brought him good luck.
The supervillain known as the Raven attempts to buy it from him, offering him money in exchange for the stone, but the Martingales refuse, and the Raven is unable to steal the stone because the Kryptonian mushroom's somehow negated his gravity manipulating device.
Powers and Abilities
None.
Equipment
Appearance
Super Friends (Season 1) (1973):
Community content is available under
CC-BY-SA
unless otherwise noted.