(One intermediate revision by one other user not shown)
Line 1:
Line 1:
 

[[File:Pallbearer.jpg|thumb|[[Aquaman]], [[Batman]], [[Samurai]] [[Barry Allen|and the Flash acting as '''pallbearers'''.]]<ref>As seen in [[The Death of Superman]] (1985).</ref>]]

 

[[File:Pallbearer.jpg|thumb|[[Aquaman]], [[Batman]], [[Samurai]] [[Barry Allen|and the Flash acting as '''pallbearers'''.]]<ref>As seen in [[The Death of Superman]] (1985).</ref>]]

 
 
−

In [[Human]] [[culture]] and [[religion]], a '''pallbearer''' was someone who assists in carrying the [[casket]] at a [[funeral]]. In most circumstances, there is normally more than one person, generally four or more, that perform this task.<ref>As seen in [[The Death of Superman]] (1985).</ref>

+

In [[Human]] [[culture]] and [[religion]], a '''pallbearer''' was someone who assists in carrying the [[]] at a [[funeral]]. In most circumstances, there is normally more than one person, generally four or more, that perform this task.<ref>As seen in [[The Death of Superman]] (1985).</ref>

 
 
 

In [[1985]], [[Aquaman]], [[Batman]], [[Samurai]] and [[Barry Allen|the Flash]] acted as the '''pallbearers''' at [[Superman]]'s [[funeral]].<ref>As seen in [[The Death of Superman]] (1985).</ref>

 

In [[1985]], [[Aquaman]], [[Batman]], [[Samurai]] and [[Barry Allen|the Flash]] acted as the '''pallbearers''' at [[Superman]]'s [[funeral]].<ref>As seen in [[The Death of Superman]] (1985).</ref>

Line 10:
Line 10:
 

==External Link==

 

==External Link==

 

*[https://en.wikipedia.org/wiki/Pallbearer Pallbearer] at [http://www.wikipedia.org/ Wikipedia]

 

*[https://en.wikipedia.org/wiki/Pallbearer Pallbearer] at [http://www.wikipedia.org/ Wikipedia]

−
 
⚫
 
 

[[Category:Religion]]

 

[[Category:Religion]]

 
⚫
---
Latest revision as of 14:52, 30 July 2019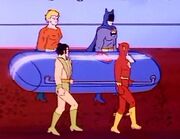 In Human culture and religion, a pallbearer was someone who assists in carrying the coffin at a funeral. In most circumstances, there is normally more than one person, generally four or more, that perform this task.[2]
In 1985, Aquaman, Batman, Samurai and the Flash acted as the pallbearers at Superman's funeral.[3]
References
External Link
Community content is available under
CC-BY-SA
unless otherwise noted.