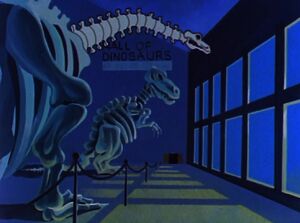 Paleontology or palaeontology (pron.: /ˌpælɪɒnˈtɒlədʒi/) is the scientific study of prehistoric life. It includes the study of fossils to determine organisms' evolution and interactions with each other and their environments (their paleoecology). As a "historical science" it attempts to explain causes rather than conduct experiments to observe effects. Palaeontological observations have been documented as far back as the 5th century BCE. The science became established in the 18th century as a result of Georges Cuvier's work on comparative anatomy, and developed rapidly in the 19th century. The term itself originates from Greek: παλαιός (palaios) meaning "old, ancient," ὄν, ὀντ- (on, ont-), meaning "being, creature" and λόγος (logos), meaning "speech, thought, study".
References
↑ As seen in Return of Warlock.
External Links
Community content is available under
CC-BY-SA
unless otherwise noted.