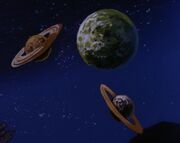 The Orion Territory was an interplanetary society made up of at least three planets located in the Orion constellation.
The Orion Territory was the home of the Orion Outlaws, a humanoid species who had a strange sense of conduct, in which anyone who fought on the side of the law was considered a criminal, and was hunted, and brought to the Orion Territorial Prison on the Orion homeworld.
Member planets
Appearance
References
↑ As seen in Outlaws of Orion.
Community content is available under
CC-BY-SA
unless otherwise noted.