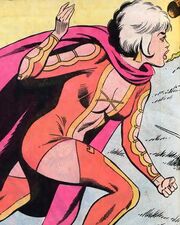 The Orandans were the Humanoid inhabitants of the planet Orando, which was located in the star system known as Valar Three.
They were the descendants of Homo Magi emigrants from Gemworld.
The Orandan culture was similar to the way it was in Europe during the Middle Ages, with medievalism, magic and feudalism.
One of the most famous Orandans was Queen Projectra, who was a member of the Legion of Super-Heroes.
This section is not yet written.
Notes
References
↑ As seen in the comic story: Death-Duel On Orando (1977).
↑ For more information about that DC comic book, click here.
External Links
Community content is available under
CC-BY-SA
unless otherwise noted.