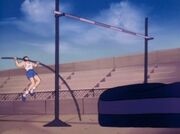 The Olympics were sporting events on Earth played during the summer and winter.
The event was designed to allow athletes from different countries to compete in a variety of different sports, such as polo, tennis, archery and swimming; to name a few.
On Earth-Two (and possibly on Earth-One as well) in 1936, William Everett, Sr. participated in the Summer Olympics in Berlin.[2]
During the 1950s, Bruce Wayne received intense Olympic training, although it's unknown if he actually participated in the actual event. He mastered pole vault and Olympic weightlifting.[3]
In the early 1980s, Victor Stone was a decathlon that may have made it or nearly made it into the Olympics.[4]
Notes
The Seeds of Doom never established whether or not Victor Stone made it into the Olympics, nor was the Olympics mentioned at all in that episode, but Professor Martin Stein did refer to Victor as a "promising young decathlon athlete," which implied he was at least on his way to getting to the Olympics.
References
External Link
Community content is available under
CC-BY-SA
unless otherwise noted.