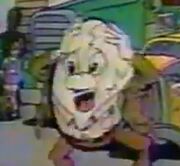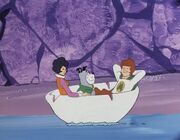 A nursery rhyme was a popular poem or song that is usually intended to be recited, read or sung to children.
Nursery rhymes are some of the most popular folk songs in both Europe and North America, although they are actually quite common and popular all over the world.
The supervillain Cyrus Gold, is called Solomon Grundy, which is also the name of a popular nursery rhyme.
Marvin White often recited nursery rhymes. He once recited rub-a-dub-dub when he said: "Rub-a-dub-dub, three men in a tub." He said this because he had fashioned a mushroom into a boat.[3]
Origins
Nursery rhymes originated in British Folk music. Such music was often sang to babies in nurseries, and that is how they continued to survive, and they were published in a number of books. They began to become extremely popular in the late 18th century or the early 19th century.
List of nursery rhymes
References
↑ As seen in The Mysterious Moles.
↑ As seen in The Mysterious Moles.
External Link
Community content is available under
CC-BY-SA
unless otherwise noted.