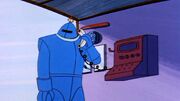 The New York Mets is a major league baseball team based in New York City. Once Ironsides was trying to use the telephone but it wasn't working properly, so instead he was listening to a radio broadcast of a Mets game. They were up against the Dodgers and tied-up in the ninth inning. Bud Harrelson is at bat, and he hits a grounder to Ron Cey, who throws him out. Two outs for the Mets, and then Willie Mays steps up to the plate and he swings, but before we can no what happened, Ironsides stops listening to the broadcast.
Known members of the team
Home ball park
From 1964 to 2008, the home field of the New York Mets was located at Shea Stadium in Queens, New York, which the football team known as the New York Jets also made use of from 1964 to 1983.
Appearances/References
References
External Links
Community content is available under
CC-BY-SA
unless otherwise noted.