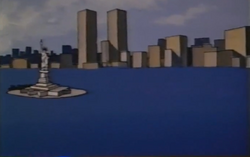 New York City was the most populous city in the U.S. state of New York. It is also, the center of the New York metropolitan area, which is one of the most populous metropolitan areas in the world. A leading global city, New York exerts a powerful influence over global commerce, finance, media, culture, art, fashion, research, education, and entertainment.
Located on a large natural harbor on the Atlantic coast of the Northeastern United States, the city consists of five boroughs: The Bronx, Brooklyn, Manhattan, Queens, and Staten Island.
The city is often referred to as New York City or the City of New York to distinguish it from the state of New York, of which it is a part.
New York was founded as a commercial trading post by the Dutch in 1624. The settlement was called New Amsterdam until 1664 when the colony came under English control. New York served as the capital of the United States from 1785 until 1790. It has been the country's largest city since 1790.
Many districts and landmarks in the city have become well known to outsiders.
Locations
Boroughs
Islands
Other locations
Sports Teams
Gallery
Episode Appearances
Coming Soon!!
External Links
References