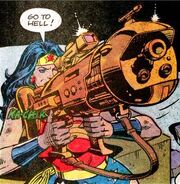 A Neural Impacter was a type of energy weapon.[2]
Although smaller than the average Plasma Disrupter, it certainly wasn't as powerful, and it was far more outdated.[3]
On the twenty-ninth of February, in the Fortress of Solitude, Mongul was beating up Wonder Woman, who located a Neural Impacter in the Hall of Weapons.
Mongul was not impressed with such an outdated weapon, and told her she should try a Plasma Disrupter, as it was smaller and more of a female's weapon.
This only further angers her, and she opens fire, right after telling him to "Go to hell!"[4]
Appearance
Notes
References
Community content is available under
CC-BY-SA
unless otherwise noted.