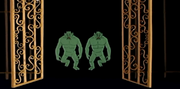 The Nether World (also referred to as the Nether Region and Nether Realm) was the place where the souls of the dead go. The realm was mostly inhabited by a race of beings known as Demons.
Other names that have been used to describe the Nether World were Hades; Kingdom of the Dead; the Underworld and the Realm of the Dead.
Dante's Inferno was a book that was about the firey nether world of Hell.
Realms of the Nether World
Known Inhabitants
Appearances
Coming soon!
Notes
References
↑ As seen in the Tarzan and the Super 7 episode The Scarlet Samurai (1978).
External Link
Community content is available under
CC-BY-SA
unless otherwise noted.