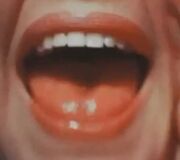 In anatomy, the mouth is generally located on the head of most animals, and it is used for communication and consuming food. Some plants have mouths too, such as the Venus fly trap.
When Marvin was describing Scuba equipment to the Krim family, Krim referred to it as "a mouthful."[2]
References
↑ As seen in the Superfriends season ten episode The Aquaman & Friends Action Hour, Part Four (2003).
↑ As seen in The Balloon People.
External Link
Community content is available under
CC-BY-SA
unless otherwise noted.