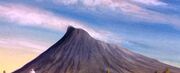 Mount Vesuvius was an active volcano in Italy. Many centuries ago, it erupted and destroyed the entire city of Pompeii.
Circa 1979, Superman went to stop Mount Vesuvius from erupting, but at the same time, in a parallel universe, the Superman of that Earth was causing it to erupt.
This somehow created a space warp that both versions of Superman fell through, causing them to switch universes.[2]
Appearance
References
↑ As seen in Terror from the Phantom Zone.
↑ As seen in the Superfriends season four episode Universe of Evil (1979).
External Links
Community content is available under
CC-BY-SA
unless otherwise noted.