Super Amigos

This page has material from the Super Amigos franchise. This includes any Superfriends or Super Powers material in the Spanish or Portuguese language. Although some material may be canon, others may be subject to dispute.
(This template will categorize articles that include it into the "Super Amigos" category.)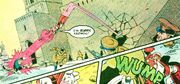 Moscow was the capitol city of the former Soviet Union.
It was the most populous city in Russia and it was the home of the Kremlin and the Kranatov Institute.
ResidencesEdit
LocationsEdit
This section has not yet been written.
AppearancesEdit
ReferencesEdit
↑ As seen in the comic story: See Red! (1986).
↑ This comic was reprinted in the Portuguese language in Super Friends # 43 (1988).
External LinksEdit