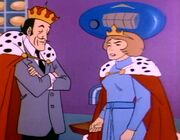 A monarchy is a form of government in which sovereignty is placed on an individual, known as a monarch. Such a person would belong to a royal family, and would be considered royalty, or of "noble blood." There are a variety of types of monarchs.
The act of renouncing one's position of monarchical authority is called abdication.[2]
A man by the name of Roy La Post once tried unsuccessfully to make his own kingdom called Frerpland.[3]
The Lava Men seem to have a monarchical society, as they were shown to have a King, which at the time was Solderath.[4]
Types of monarchies
Types of monarchs and other royalty
References
External Links
Community content is available under
CC-BY-SA
unless otherwise noted.