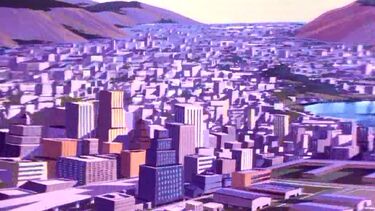 Metropolis was a city located at least partly in Metropolis County, USA. It was one of the largest and wealthiest cities in the United States that was best known as being the hometown of Superman.
Metropolis was located 'right over the bridge' from Gotham City.[2]
The Natives of Metropolis were often referred to as Metropolitans.
By the 40th century, Metropolis becomes an intergalactic spaceport, making it a hub for beings from every end of the galaxy.[3]
By the year 80,000 AD, Metropolis was a large Computer City protected by the Assault Monitor.[4]
Local Government
City Departments
Events Held In Metropolis
Locations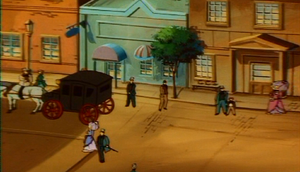 Boroughs
Banks
Media/Newspaper
Recreation
Colleges and Schools
Streets/Bridges
Scientific / Medical Facilities
Museums
Transportation
Businesses
Military facilities
Neighborhoods/Districts
Religious facilities
Lodging
Waterways
Hills and Mountains
Miscellaneous
Residences
Suburbs
Natives
For a complete list of natives, click the link below:
Image gallery
Origin / First Appearance
Location
In the Super Friends, the exact location of Metropolis has never been canonically established:
Appearances in Other Media
Coming Soon!
References