(2 intermediate revisions by one other user not shown)
Line 1:
Line 1:
−

[[Image:Merfolk.jpg|thumb|Merfolk<ref>As seen in [[Vassa, Queen Of The Mermen]].</ref>|400px]]

+

[[Image:Merfolk.jpg|thumb|Merfolk<ref>As seen in [[Vassa, Queen Of The Mermen]].</ref>]]

 
+
−

'''Merfolk''' is a race of [[humanoid]] [[fish]]. They look very [[human]] in appearance, except for their obvious scaly fish qualities, which typically is characteristically defined by their fish-like fins. Merfolk of that type do not have legs, just fins in their place. Most Merfolk have greenish skin and pointed ears. Male Merfolks are called Mermen, while female Merfolks are called Mermaids.

 
 
+

'''Merfolk''' was a [[species]] of [[Humanoid]] [[amphibian]]s.

 
+
 
+

The were capable of [[breathing]] [[water]] as well as [[air]].

 
+
 
+

The [[male]]s were known as [[mermen]], while the [[female]]s were called [[mermaid]]s.

 
+
 
+

==[[History]]==

 
+
 
+

===[[Earth-1A]]===

 
+
 
+

There was a [[statue]] of a [[naked|topless]] '''[[mermaid]]''' that was part of a [[fountain]] located in the front of the [[Mgrain Hotel]] in [[Metropolis]].

 
+
 
+

It was destroyed by [[Firezarro|Bizarro Firestorm]] of the [[Bizarro Super Powers Team]].<ref>As seen in the '''[[Super Friends (TV Series)|Superfriends]]''' [[season 9|season nine episode]] ''[[The Bizarro Super Powers Team]]'' (September 14, 1985).</ref>

 
+
 

==Appearances==

 

==Appearances==

 

[[The New Adventures of Superman]]

 

[[The New Adventures of Superman]]

Line 7:
Line 21:
 

<references/>

 

<references/>

 

==External Links==

 

==External Links==

−

*[http://dc.wikia.com/wiki/Merpeople Merfolk] at the [http://dc.wikia.com/wiki/Main_Page DC Database]

+

*[http://dc.wikia.com/wiki/Merpeople ] at the [http://dc.wikia.com/wiki/Main_Page DC Database]

−

*[http://en.wikipedia.org/wiki/Merfolk Merfolk] at [http://www.wikipedia.org/ Wikipedia]

+

*[http://en.wikipedia.org/wiki/ ] at [http://www.wikipedia.org/ Wikipedia]

 

[[Category:Species]]

 

[[Category:Species]]

 

[[Category:Filmation]]

 

[[Category:Filmation]]
---
Latest revision as of 23:19, 6 April 2020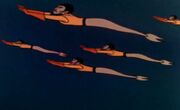 Merfolk was a species of Humanoid amphibians.
The were capable of breathing water as well as air.
The males were known as mermen, while the females were called mermaids.
There was a statue of a topless mermaid that was part of a fountain located in the front of the Mgrain Hotel in Metropolis.
It was destroyed by Bizarro Firestorm of the Bizarro Super Powers Team.[2]
Appearances
The New Adventures of Superman
References
External Links
Community content is available under
CC-BY-SA
unless otherwise noted.