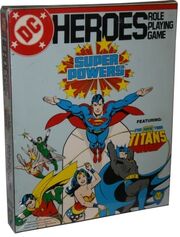 Mayfair Games is a company that designs role-playing games.
They even designed a game that was a Super Powers product. The name of the game was DC Heroes, a role-playing game with superheroes, supervillains and other real world and fictional settings, time periods, locations and scenarios. There were three editions to the game. The first was released in 1985, the second in 1989, and the third in 1993.
Company History
The company was originally formed in 1981, developing games such as The Company War, Chill and Role Aids.
In 2012, the company developed Star Trek Catan.
References
↑ The First edition of this game was released in 1985.
External Link
Community content is available under
CC-BY-SA
unless otherwise noted.