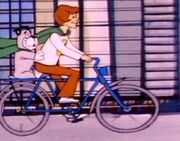 Marvin White had a wide variety of bicycles that he rode on different occasions. They were usually blue or red in color.
Marvin was bike riding on a blue bicycle when he saw Prof. Goodfellow's Funmobile. He and Wendy both followed the van to the G.E.E.C. Factory on their bikes.[2]
Marvin also at times rides a red bike. He once used it to go bike riding with Wendy to locate a Blue Jet that was causing tremors all over the country.[3]
Marvin also had a red double-seated bike, which he had Wendy ride with him on the back seat. It was stolen by the Raven, who snatched it up using the powerful Gravity Field of a white dwarf star, although he was able to recover it.[4]
Marvin rode his blue bike with Wendy riding hers in Cave County, where they discovered what they thought was the tracks of a giant chicken.[5]
Marvin rode his red bike while Wendy rode hers when they were following a circus wagon down a highway that led them to a side road where Doctor LeBon's Galaxy Observatory was located.[6]
Appearance
References
Community content is available under
CC-BY-SA
unless otherwise noted.