(3 intermediate revisions by one other user not shown)
Line 1:
Line 1:
 

[[File:Marijuana.jpg|thumb|[[Oliver Queen|Oliver Queen]] [[smoking]] [[drug|'''marijuana'''.]]<ref>As seen in [[Cave Carson Has a Cybernetic Eye 3|Cave Carson # 3]] (2017).</ref>]]

 

[[File:Marijuana.jpg|thumb|[[Oliver Queen|Oliver Queen]] [[smoking]] [[drug|'''marijuana'''.]]<ref>As seen in [[Cave Carson Has a Cybernetic Eye 3|Cave Carson # 3]] (2017).</ref>]]

 
 
−

'''Marijuana''' was a type of [[drug]] that was made from a certain type of [[Earth]] [[plant]]. It was green in color, and usually the drug was rolled up into a [[cigarette|joint]] or [[cigar|blunt]], it is then [[fire|lit]], and then [[smoking|smoked]], in the same manner that [[tobacco]] is smoked.

+

'''Marijuana''' was a type of [[drug]] that was made from [[Earth]] [[plant]] [[]].

 
+
 
+

It was green in color, and usually the drug was rolled up into a [[cigarette|joint]] or [[cigar|blunt]], it was then [[fire|lit]] by a [[matches|match]] or [[lighter]], and then [[smoking|smoked]], in the same manner that [[tobacco]] was smoked.

 
 
 

When [[Oliver Queen]] was on [[Starfish Island]], he used a drug that appeared to be '''marijuana''', although he himself was uncertain what it was, yet he did wonder. He rolled it up into a [[cigar|blunt]] and then smoked it, hoping it would calm his [[nerve]]s. He described the drug as "potent."<ref>As seen in [[Cave Carson Has a Cybernetic Eye 3|Cave Carson # 3]] (2017).</ref>

 

When [[Oliver Queen]] was on [[Starfish Island]], he used a drug that appeared to be '''marijuana''', although he himself was uncertain what it was, yet he did wonder. He rolled it up into a [[cigar|blunt]] and then smoked it, hoping it would calm his [[nerve]]s. He described the drug as "potent."<ref>As seen in [[Cave Carson Has a Cybernetic Eye 3|Cave Carson # 3]] (2017).</ref>

 
+
 
+

Marijuana is dangerous as it alters the mind, and causes dehydration and lung irritation.

 
 
 

==References==

 

==References==

Line 10:
Line 14:
 

==External Link==

 

==External Link==

 

*[https://en.wikipedia.org/wiki/Marijuana Marijuana] at [http://www.wikipedia.org/ Wikipedia]

 

*[https://en.wikipedia.org/wiki/Marijuana Marijuana] at [http://www.wikipedia.org/ Wikipedia]

−
 
 

[[Category:Drugs]]

 

[[Category:Drugs]]
---
Revision as of 04:29, 30 August 2019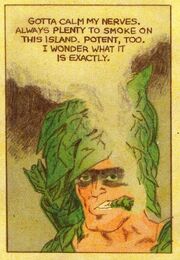 Marijuana was a type of drug that was made from the Earth plant cannabis.
It was green in color, and usually the drug was rolled up into a joint or blunt, it was then lit by a match or lighter, and then smoked, in the same manner that tobacco was smoked.
When Oliver Queen was on Starfish Island, he used a drug that appeared to be marijuana, although he himself was uncertain what it was, yet he did wonder. He rolled it up into a blunt and then smoked it, hoping it would calm his nerves. He described the drug as "potent."[2]
Marijuana is dangerous as it alters the mind, and causes dehydration and lung irritation.
References
External Link