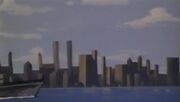 Manhattan is one of the five boroughs of New York City, New York.
It is located primarily on Manhattan Island at the mouth of the Hudson River, the boundaries of the borough are identical to those of New York County, an original county of the state of New York. It consists of Manhattan Island and several small adjacent islands: Roosevelt Island, Randall's Island, Ward's Island, Governors Island, Liberty Island, part of Ellis Island, and U Thant Island; as well as Marble Hill, a small section on the mainland adjacent to the Bronx. The original city of New York began at the southern end of Manhattan, and expanded in 1898 to include surrounding counties. It is the smallest, yet most urbanized of the five boroughs.
It is the center of New York City and the New York metropolitan region, hosting the seat of city government and a large portion of the area's employment, business, and entertainment activities. As a result, residents of New York City's other boroughs such as Brooklyn and Queens often refer to a trip to Manhattan as "going to the city".
The Empire State Building and United Nations Headquarters are located in this borough. The neighborhood known as Harlem is also here.
Cyborg compared Aliana's ship to the size of Manhattan.[2]
Appearances/References
The Super Powers Team: Galactic Guardians (1985)
References
External Links
Community content is available under
CC-BY-SA
unless otherwise noted.