Warning: Explicit Content

The following article contains some form of adult content, such as disturbing images, graphic violence, sexual situations, or other forms of material that may not be suitable for younger readers or may be offensive to some readers. View at your own discretion.
(This template will categorize articles that include it into the "Explicit Content" category.)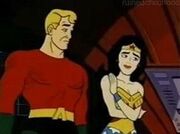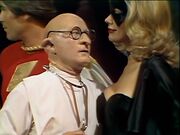 The mammary gland was part of the mammal anatomy, sometimes present in both males and females, although more often females. They were used to feed milk to their young. Bipeds have breasts, while quadrupeds have udders, both which were mammary glands and thus served the same function.
When Doctor Sivana told Black Canary he wanted to check her heartbeat, he got uncomfortably close to her boobs and said that he makes "house calls."[4]
A fountain located in the front of the Mgrain Hotel had a statue of a topless mermaid on it, with its' bare breasts clearly visible.[5]
After Aquaman and Wonder Woman were rescued by the Powerpuff Girls from the clutches of the Legion of Doom, Wonder Woman told the young girls that they are developing into quite the superheroes. Immediately after saying that, Bubbles tells her that "maybe someday we'll be as developed as you."
Of course the girl was too young to realize what she said could be misconstrued as a dirty joke about Wonder Woman's boobs, but nevertheless, the Legion of Doom, who were all laid out on the floor, found it somewhat humorous, and they all started laughing...much to Wonder Woman's embarrassment.[6]
References
External Links
Community content is available under
CC-BY-SA
unless otherwise noted.