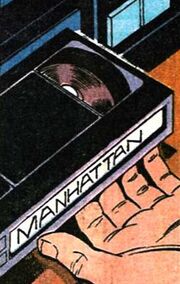 MANHATTAN was a movie that starred Woody Allen.
It was released in the year 1979.
It was set and shot in the New York City borough of Manhattan.
In 1990, Movie Buff watched his VHS copy of MANHATTAN so that he could use his super power to turn into Woody Allen, in the hopes that he could get a job as a lookalike.
Apparently he got turned down, since using a lookalike could lead to lawsuits. He felt that the problem may have been that he chose the wrong video, and that instead of MANHATTAN, he should have chose Zelig instead.[2]
Appearance
References
External Link
Community content is available under
CC-BY-SA
unless otherwise noted.