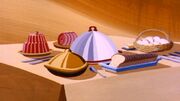 Lunch was a meal that was commonly eaten at around 12PM. A lunch eaten outside, as well as any meal eaten outside, was usually referred to as a picnic.
Wendy was a skilled cook, and she prepared lunch for the Super Friends on occasion.
Director Wimple had a sandwich for lunch that he kept in his lunchpail.[2]
Wendy Harris, Marvin White, Wonder Dog, Batman, Robin, Wonder Woman, Aquaman, and joining them last; Superman, all had a picnic lunch on a countryside road across from the Mole residence.[3]
In 1979, when Ed McMahon saw the Super Friends at the Hall of Heroes, he told them that he hadn't seen costumes like that since he had "lunch at Alice Cooper's house."[4]
Appearances/References
References
External Links
Community content is available under
CC-BY-SA
unless otherwise noted.