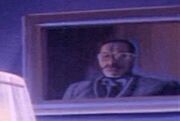 Lucius Fox is Bruce Wayne's business manager at Wayne Enterprises. He attended the memorial services for Batman at Gotham Cemetery when it was believed that he had been killed by the Riddler with the Noxium crystal.
Background Information
On the parallel-universe of Earth-One, Lucius Fox first met his future employer Bruce Wayne in Paris, when Wayne saved him from a mugger's attack. The two became fast friends, and Wayne invited him to help him start a charity organization that later became known as the Wayne Foundation. Bruce recognized Lucius' strong business ethics, and before long, Fox was a high ranking officer in Wayne Enterprises. With Bruce spending more and more time operating as Batman, he had little time for day to day business affairs, and virtually handed the reigns of the company over to Lucius. In time, Lucius became the CEO of the company. Fox saved Wayne Enterprises from financial ruin, and his quick-witted business savvy and strong ethics helped the corporation to prosper.
Appearance
Season 3 (1978):
Season 6 (1985):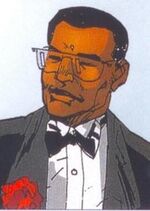 Notes
Although bearing his likeness, he was never given the name Lucius Fox.
Lucius Fox made his first appearance in Batman, Vol. 1 #307 (January 1979).[2]
He only appeared in one episode.[3]
The episode he appeared in was aired in December 1978, and his first comic book appearance was dated January 1979. Still, he actually appeared in the comics first, because it was released three months ahead of the date on the cover.
References
↑ As seen in The Fear. It should be noted that although bearing his likeness, it was never identified as him, and so it being him is simply speculation.
↑ Go to DC Database for more on Batman, Vol. 1 #307 published in January 1979.
↑

To this editor's knowledge at least.
Community content is available under
CC-BY-SA
unless otherwise noted.