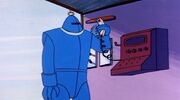 The Los Angeles Dodgers was a major league baseball team in Los Angeles, California.
Once Ironsides tried to use the telephone, but because the G.E.E.C. computer wasn't functioning properly, he instead heard a radio broadcast of a baseball game between the New York Mets and the Dodgers.
The details of the game that Ironsides heard were as follows: the Dodgers and Mets are tied in the ninth inning. The Mets are at bat, and Bud Harrelson steps up to the plate and hits a grounder to the third baseman: Ron Cey. Cey tosses the ball to first and Harrelson is out. This is the second out. After that, Willy Mays steps up to the plate and he swings the bat, but what happened after that is uncertain, because Ironsides stopped listening to the game at that point.[2]
Doctor Hiram Gulliver was joking with Igor that they should try out for the Dodgers, since Igor is good at pitching snowballs and he is good at catching shrunken heroes with butterfly nets.[3]
Team members
Appearances/References
References
External Links