Legends of the Superheroes
Aired
January 18, 25, 1979
Original Run
January 1979
Production

Writer(s)
Mike Marmer
Peter Gallay
Director(s)
Bill Carruthers
Chris Darley
Producer(s)
Bill Carruthers
Legends of the Superheroes is an umbrella title for two 60-minute live-action television specials produced by Hanna-Barbera Productions that aired on NBC on January 18 and 25, 1979. The series was loosely based on SuperFriends cartoon show, then airing on Saturday mornings on ABC. It also served as a reunion of sorts for the 1960s' Batman TV series, as it brings back together three of its stars reprising their respective roles. The specials were produced like standard variety shows of the time: on videotape and with a laugh track.[1]
Both specials preempted Project UFO, which aired on NBC from February 19, 1978 – July 19, 1979.
Episodes
In the first episode, which aired on January 18, 1979, the superheroes must race against time to stop the diabolical supervillains' plot to destroy the world. It opens in the cavernous lair of the superheroes arch-enemies. Meanwhile a few members of the Justice League of America gather together at the Hall of Heroes to celebrate elderly retired superhero Scarlet Cyclone's birthday. The party is interrupted by the Legion of Doom, who announce the spreading of deadly bombs in several places, and the heroes must follow clues to find them. It's all, actually, a trap to make the heroes drink Dr. Sivana's de-powering potion, which succeeds, but the heroes disarm the bombs and recover their powers. It is only after the whole battle is done that Scarlet Cyclone arrives to give his aid.
In the second episode, which aired on January 25th, the superheroes pay tribute to Batman and Robin in the form of a roast which even the villains attend. It is hosted by Ed McMahon. What's special about this roast is that it's a bunch of people in the hot seat, not just one guy. All of the heroes from the previous episode get their turn to be ripped on.
Cast
Miscellaneous Characters
Heroes
Villains
Notes
The producers were not able to use Wonder Woman or Superman for these television specials because both of those characters were already being used elsewhere. Superman was at the beginning of his theatrical film franchise a month earlier and Wonder Woman was still having her own television series on CBS.
This series reveals that Captain Marvel (and apparently all Fawcett characters) co-exist with the other heroes all on one earth. In the majority of comics, the DC characters were part of Earth-One and the Fawcett characters were part of Earth-S. However, there were Earths that had a close analog called Captain Thunder which includes Earth-Forty where he coexisted with Batman and Wonder Woman. In the aftermath of Crisis on Infinite Earths Captain Marvel co-existed with DC characters on at least two Earths: New Earth and Earth-85.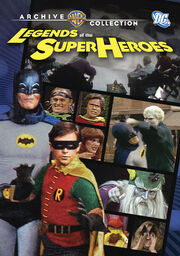 DVD release
Warner Home Video's Warner Archive Collection released the specials on DVD on October 19, 2010.[2]
External links
References