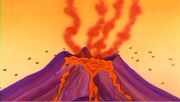 Lava is rock that has been heated to the point that it melts into a hot liquid form.
Superman used lava from Malaba to create a glass bubble to transport Marvin, Wendy, Wonder Dog, Aquaman, Flash and Kolbar to the planet known as Solar Terrarium.[2]
The Lava Men are a race made of living lava.[3]
Appearances
See also
References