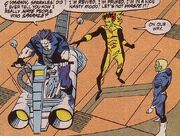 L.E.G.I.O.N. Headquarters served as the base of operations for the Licensed Extra-Governmental Interstellar Operatives Network, better known by the acronym L.E.G.I.O.N.
It was located on a planet called Cairn in the Milky Way Galaxy. Cairn was a world that had set the record for its' reputation as being the most crime-ridden world in the galaxy.
That world had the highest addiction rate in the galaxy and since it was inhabited by so many drug lords and gangsters, it was a perfect place for L.E.G.I.O.N. to set up shop, giving them an opportunity to clean up the crime there.
Appearance
Notes
References
↑ As seen in the comic story: Sea of Troubles (1992).
↑ This comic was reprinted in Super Powers # 31 (1994).
↑ For more information about that DC comic book, click here.
External Links
Community content is available under
CC-BY-SA
unless otherwise noted.