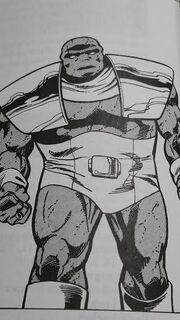 Korlon was a U.P. member world, home to human colonists and native to a species known as the Dryads.
Blok is a superhero that is a native of this world. He is a member of the famous team of superheroes known as the Legion of Super-Heroes.
Sadly, Korlon was destroyed when the planet's radioactive core became unstable. The Legion of Super-Heroes helped evacuate the planet, and relocate the inhabitants to other worlds.[2]
Indigenous species
Dryads: Dryads are the natives of the planet, and the word "Dryad" is also the native name of the planet Korlon.
Species that colonized this world
Humans: Many humans from Earth and also other humanoid races from throughout the galaxy, mostly in the United Planets, also colonized this planet. They co-existed with the Dryads peacefully, more or less.
References
External Links