Line 1:
Line 1:
 

[[File:Korlon.jpg|thumb|[[Blok|Blok, a]] [[Dryads|native of]] [[planet|the planet '''Korlon'''.]]<ref>As seen in the [[Atlas of the DC Universe]].</ref>]]

 

[[File:Korlon.jpg|thumb|[[Blok|Blok, a]] [[Dryads|native of]] [[planet|the planet '''Korlon'''.]]<ref>As seen in the [[Atlas of the DC Universe]].</ref>]]

 

'''Korlon''' is a [[United Planets|U.P.]] member world, home to [[human]] colonists and native to a [[species]] known as the [[Dryads]].

 

'''Korlon''' is a [[United Planets|U.P.]] member world, home to [[human]] colonists and native to a [[species]] known as the [[Dryads]].

 
+
 
+

[[Blok]] is a [[superhero]] that is a native of this world. He is a member of the famous team of [[superheroes]] known as the [[Legion of Super-Heroes]].

 

==Indigenous species==

 

==Indigenous species==

 

*'''[[Dryads]]'''

 

*'''[[Dryads]]'''
---
Revision as of 17:02, 6 November 2015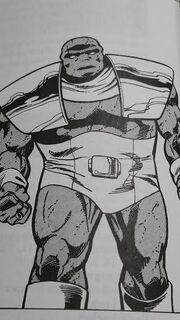 Korlon is a U.P. member world, home to human colonists and native to a species known as the Dryads.
Blok is a superhero that is a native of this world. He is a member of the famous team of superheroes known as the Legion of Super-Heroes.
Indigenous species
References
External Links
Community content is available under
CC-BY-SA
unless otherwise noted.