King Arthur was the king of the Britains who commanded the Knights of the Round Table to protect his kingdom and Camelot from evil during the 6th century.
His wizard was named Merlin.
Circa 1955, a time traveling Superboy arrived in Camelot during the monarchy of King Arthur. While he was there he faced the evil Black Knight.[1]
In 1978, Sinestro and Captain Cold time traveled to the year 500 AD to King Arthur's Court with Gorilla Grodd's time conveyor.
While they were there, the stole King Arthur's golden treasures and money.[2]
In the year 3000, after sleeping for about twenty-five hundred years beneath Glastonbury Tor; King Arthur awoke to save the Earth from a terrible alien invasion that was spearheaded by his sister Morgan le Fey.[3]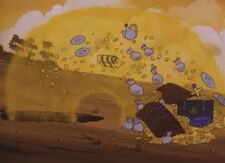 Powers and Abilities
None.
Appearances/References
The New Adventures of Superman
Season 3 (1978):
Notes
External Links
References
Community content is available under
CC-BY-SA
unless otherwise noted.