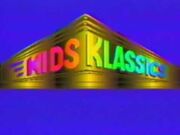 Kids Klassics was a home video production company owned by GoodTimes Home Video.
The company, which is now defunct, was based in New York City, New York.
They released several Superfriends related videos, such as the animated Superman short films.
They also teamed up with Worldvision Home Video Inc. to release VHS copies of The Plastic Man Comedy/Adventure Show.
As GoodTimes Home Video and its' parent company are both now defunct, Kids Klassics as previously mentioned, is also defunct as well, and it no longer exists.
List of Kids Klassics releases
References
External Links
Community content is available under
CC-BY-SA
unless otherwise noted.