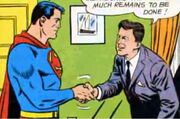 The Kennedy assassination was one of the most memorable assassinations in the history of the United States of America. John F. Kennedy, 35th President of the United States, was shot and killed at 12:30PM (Central Standard Time) on Friday, November 22, 1963, in Dealey Plaza, Dallas, Texas, while traveling with his wife, the governor of Texas and his wife in a presidential motorcade.
Official report
This is the official report of what happened.
Target
The victims
The assassin
Sniper's position
Texas School Book Depository (Sixth floor)
In the the parallel universe of the Watchmen, details surrounding the assassination were drastically different, however one can assume that Oswald was still charged with the murder, despite the fact that he was not the killer. These are the details surrounding the assassination in that universe.
Target
The victims
The assassin
The weapon
Sniper's position
Grassy knoll
References
↑ As seen in Superman in '66.
External Links
Community content is available under
CC-BY-SA
unless otherwise noted.