The Justice League of Another Planet was an extra-terrestrial superhero team from a world in a far away star system.
The Justice League of Another Planet was a team of superheroes from another planet deep in space.
The members of the team resembled the 'traditional movie monsters.' They met the Super Friends when they were trying to stop Char Ymat from possessing a power ring and power battery that belonged to a member the Green Lantern Corps.[1]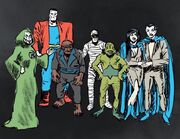 This team of superheroes also existed in this universe as well.
They apparently went by the name the Monster Society of America, implying that when they came to Earth, they stayed, and also they obviously must have settled in America, hence the name of their superhero team.[3]
Members
Appearance
The 'Justice League of Another Planet' did not appear on any episodes of the SuperFriends TV Show.
Their only appearance was in the Super Friends (comic book):

References
↑ As seen in the comic story: The Monster Menace! (1978).
↑ This is the artwork of Super Powers writer and artist Tom Scioli.
↑ All of this is implied in the artwork of Tom Scioli. It should be noted though, that this artwork wasn't published in any canon material and may not be considered canon.
External Links
See: Universal Monsters at Wikipedia
Community content is available under
CC-BY-SA
unless otherwise noted.