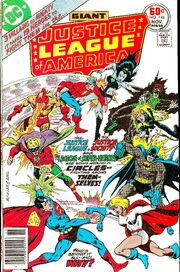 Justice League of America was a comic book series from DC Comics. There were multiple issues of the Super Friends comic book and the Superamigos comic book that referenced certain issues of this series, so therefore, those particular issues should likewise be considered canon in the Earth-1A universe.
Also, the issues labeled "Here Come TV's Super-Friends!" should also be considered canon, due to having the Super Friends name on the cover.
Issues
References
↑ This is Justice League of America # 148.
External Links
Community content is available under
CC-BY-SA
unless otherwise noted.