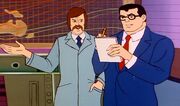 Journalism is the activity or product of journalists or others engaged in the preparation of written, visual, or audio material intended for dissemination through public media with reference to factual, ongoing events of public concern. It is intended to inform society about itself and to make public, things that would otherwise be private.
References
External Links
Community content is available under
CC-BY-SA
unless otherwise noted.