Warning: Explicit Content


The following article contains some form of adult content, such as disturbing images, graphic violence, sexual situations, or other forms of material that may not be suitable for younger readers or may be offensive to some readers. View at your own discretion.

(This template will categorize articles that include it into the "Explicit Content" category.)

This page has material from the Super Amigos franchise. This includes any Superfriends or Super Powers material in the Spanish or Portuguese language. Although some material may be canon, others may be subject to dispute.

(This template will categorize articles that include it into the "Super Amigos" category.)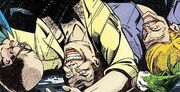 Joker Venom was a type of chemical that the Joker used to murder his victims.
Generally, a person exposed to the venom would experience uncontrolled laughter, and their faces would gruesomely form a hideous smile, similar to the Joker's own face.
Depending on the dosage, death would often follow, leaving the victim with a grotesque rictus grin on their face. Bruce Wayne created an antidote when needed, especially since he too had been poisoned with Joker Venom a few times.
The Joker once poisoned Gotham City's water system with Joker Venom, which caused many fish to be mutated into Joker Fish.[2] He then unsuccessfully tried to copyright them.
Notes
Joker Venom first appeared in Batman # 1 (June 1940)[3]
Also known as Smylex, Laughing Gas, Joker Gas, or Joker Toxin.
Smylex is commonly used as a gas or liquid, but it may also be sprayed, injected, or taken orally.
The name "Smylex" has been used since the 1989 film "Batman". The name was later used in 2017's "The LEGO Batman Movie".
Smylex takes 24 hours to kill at the lowest dosage.
References
External Link
Community content is available under
CC-BY-SA
unless otherwise noted.